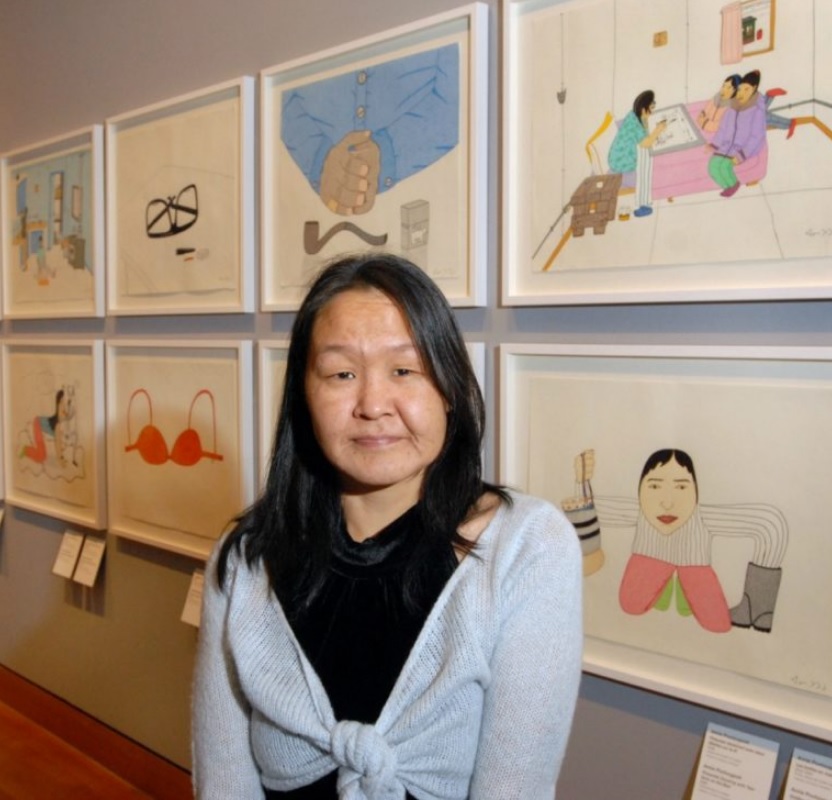 Annie Pootoogook
(1969-2016)
Annie's life and legacy is one of triumph and tragedy. As an artist, in her lifetime, she reached the dizzying heights of success that most artists of the world can only dream about. Not even Van Gogh achieved the same level of fame and fortune while he lived… for him, as with so many artists in history, it came only after his death. But Annie's success, fame, and fortune came to her while she was alive to experience it. Unfortunately, she was unable to fully embrace it, accept it, and herself, in a way that motivated her to continue on the same path of personal growth and achievement. As with many other 'famous artists' who died far too young, she fell victim to addiction, and ended up homeless, aimless, and her body was eventually found floating in an Ottawa river due to unknown causes. The local police wrote her death off as a likely suicide and did not even investigate it, so the mystery of how she actually died remains to this day.
However, her tragic end does not detract from the legacy of her life and the impact and influence of the body of work she created. She had the courage to depict the ordinary in a way that was truly extraordinary in her time. When other Inuit Artists of the time were choosing the old ways of the Inuit, their legends and myths, and the arctic animals around them as their subject matter, Annie focused on the people in her life and their current way of living as her subject. She did not flinch from the difficult realities of life in Inuit communities, including the alcoholism and physical abuse that she had known all too well. When she took her first drawings to sell at the co-op she was told they would not sell well, due to the mundane subject matter and scenes of ordinary life. But rather than changing her subject matter to sell more drawings, or receive more money for them, she courageously and with determination continued to create work that documented her own life and the lives of those in her community. In doing so she led the way for an entirely new form of 'Inuit Art', achieved international acclaim, and won the highest award in the country, which came with a huge $50,000. prize. With all this she created a legacy that few artists in the world will ever match. And today many of the younger generation of Inuit Artists are following in her artistic footsteps and creating their own legacy by showing Inuit life as it is, and as they see it.
Even though Annie's life was short, she forged a path ahead for future generations of Inuit Artists, and will remain an artist of the highest achievements possible in the history of art.
——-
ANNIE POOTOOGOOK
It is with profound sadness that we announce the untimely death of Annie Pootoogook, an artist of remarkable talent and sensitivity who was at the forefront of the new wave of contemporary Inuit art.
Annie Pootoogook was born in 1969 in Cape Dorset, Nunavut. She began drawing in 1997 and although she did most of her work at home she was a steady presence at the Kinngait studios during the early part of her career. Annie was a member of an extraordinary artistic family. Her father, Eegyvadluk, was a talented carver and one of the first stonecut printmakers in the studios in Cape Dorset. Her mother, Napachie, was a committed graphic artist and long-time contributor to the annual print collections. Her grandmother, Pitseolak Ashoona, was one of the first to experiment with the new medium of drawing during the transition years when Inuit were leaving their traditional camps and moving to permanent settlements in the Canadian Arctic. Pitseolak and Napachie went on to become two of the most prolific and highly respected Inuit graphic artists of their respective generations.
Annie Pootoogook was an instinctive chronicler of her times. She shared this sensibility with her mother and her grandmother, both of whom used their drawings to share their way of life with an outside audience. Annie's drawings reflected her experience as a contemporary female artist living and working in the changing milieu of Canada's far north. Although firmly rooted to the specifics of her time and place, she managed to transcend cultural boundaries and present the details of her everyday life in an engaging way, inviting the viewer into both her public and private worlds. From the apparently mundane (the line-up for the ATM machine at the Co-op store, watching television with her family) to the personal and intimate (her experience with spousal abuse, the loss of her mother) Annie expressed a wide range of content and emotions.
Annie had her first one person show in 2002 and was represented in several successful exhibitions during her career. She spent the summer of 2006 in Dufftown, Scotland, where she was artist-in-residence at the Glenfiddich Distillery "Spirit of Creativity" program. Following a solo show at the The Power Plant gallery in Toronto, she went on to win the prestigious Sobey Arts Award in October and subsequently went on to exhibit at the Basel Art Fair and Documenta 12 in Kassel Germany. Her drawings are in the collections of the National Gallery of Canada, the Art Gallery of Toronto and several other notable institutions. Annie was the subject of a critically acclaimed documentary film by Site Media and her work has been shown in numerous public galleries in Canada and around the world.
Annie will be sorely missed by all of us at the West Baffin Eskimo Co-op, by her family and friends around the country and by the art world at large.
(Information provided by Dorset Fine Arts)
Annie Pootoogook - Inuit Art Gallery - A Showcase and Celebration of this Inuit Artist's Life and Work