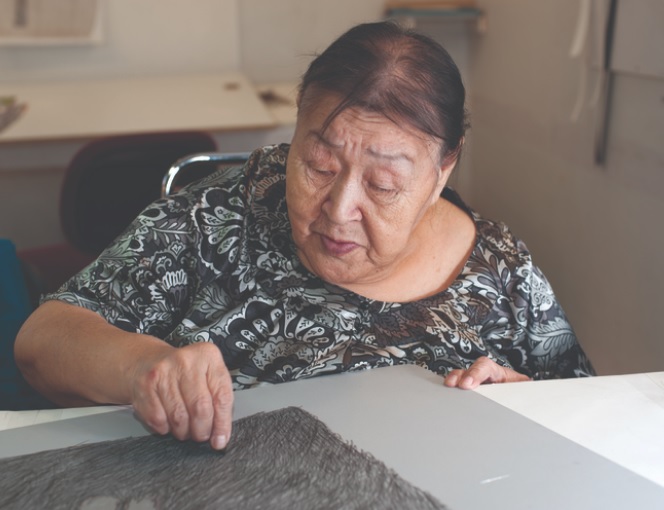 PAPIARA TUKIKI
Born 1942
"I enjoy drawing animals and I'm amazed at how they survive up here in the north. Without them, my family would never have survived. I also draw people camping because I am reminded of old times when we lived on the land. Those were good times."  – Papiara Tukiki
Papiara Tukiki has been a delightful mainstay of the annual collection since her first prints were introduced in 2004. Papiara's simple forms capture the essence of her subject – whether it be human or animal or some combination of the two, as in her Loon Spirit (2012-17) of 2012. Papiara has an innate sense of design. In 1977 she received an Award of Excellence for her original design in the "Things That Make us Beautiful" competition organized by the Department of Indian and Northern Development.
Born on Christmas Day, 1942, Papiara is married to Qopie Tukiki, a long-time employee of the community's Housing Association. They live in Cape Dorset.
(Information and pic provided by Dorset Fine Arts)
Papiara Tukiki was born on the land at the outpost camp of Nuwata in Nunavut. These formative years on the land continue to inform her artistic practice, with depictions of animal and plant life interpreted by a playful imagination. Tukiki has worked out of the Kinngait Studios and featured in the Cape Dorset Annual Print Collection since 2004. Drawings—a resurgence of creativity for Inuit artists and a 'renaissance' as defined by Nancy Campbell—have been a source of exploration for many artists, with an immediacy in their drawings that cannot be replicated in prints. Caribou Stew (2012) shows Tukiki's humour with a large blue ceramic mug dominating the page, a caribou propped at the top and gazing outwards, antlers blossoming like flowers. The drawing is flattened with the absence of shadows and shading, and the picture plane creates an illustrative effect rather than a realistic depiction of the juxtaposing elements. Mark making is visible in the use of pencil in short strokes covering a large area, creating texture for the coat of the caribou. The artist's hand carries an immediacy of personal connection that links the artist with the viewer through the juxtaposition of domesticity and wildlife, interpreted through humour. Tukiki's practice is informed by a design aesthetic, with animals and insects depicted on a flat ground, either alone or in repetition that recalls patterns.
Tukiki's images of playful animals on the land have a touch of whimsy and humour. In looking to Bubble Gum (2011), the etched fur creates a texture against a singular use of colour in the body. The gum bubble adds a playful tone to the image; the animal's paws extended outwards as if mid-frolic. Tukiki's practice continues to engage with the land, as she recalls, "I remember how it was before we lived in the settlement. We needed all of these animals for food and clothing and just to live. I like to draw them. I also like to draw the way that we used to live, people in camps and travelling". Her unique interpretations have been reproduced in many print collections, and her drawings have toured internationally. Her work is held in numerous public collections, including the National Gallery of Canada in Ottawa, ON, and the Brooklyn Museum in New York City, NY.
Noteworthy Accomplishments
2015 Participated in a panel discussion at 'Focus on Cape Dorset' at the Brooklyn Museum in Brooklyn, NY.
1977 Received an Award of Excellence for original design in the "Things That Make Us
Beautiful" competition organized by the Department of Indian Affairs and Northern Development.
(Information provided by Inuit Art Foundation)