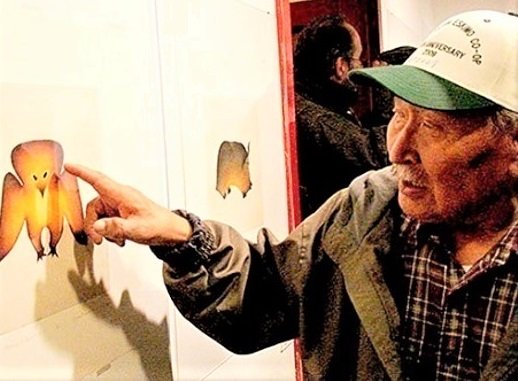 OHOTAQ MIKKIGAK
1936-2014
There are few artists that have had such a longstanding and extensive involvement with the Kinngait (Cape Dorset) artistic community than Ohotaq Mikkigaq. He first started drawing and printmaking in the early 1960s during the formative years of the print program in Kinngait and was among the group of artists who contributed to the commercial success of the program. His first print "Eskimo Fox Trapper" was published in 1961 and from that point, Mikkigaq has been recognized for his ability to reimagine the landscape and the figures that can be found out on the land. (Information provided by Inuit Art Foundation)
I enjoy doing colourful drawings, of people, animals, birds and especially the landscape. I used to enjoy hunting on the land, so that's what I draw. I've done a few drawings of shamans, although I've never seen one. They are stories, true stories, told by my grandmother. – Ohotaq Mikkigak
Ohotaq was born in 1936 and lived in Cape Dorset with his wife Qaunak, who is a carver and traditional throat-singer. Ohotaq began drawing in the early years of the print program in Cape Dorset, and his print, Eskimo Fox Trapper, was released in 1961. He became less involved with drawing as the community grew, working full time instead for various community agencies. After his retirement from his job as caretaker of the Peter Pitseolak School in Cape Dorset, Ohotaq resumed his interest in drawing.
We were pleased to include three of his prints in the 40th anniversary collection released in 1999 and he was represented in every subsequent collection until his death in 2014. In the later years Ohotaq was a daily fixture at the table in the Kinngait Studios, working on drawings covering a wide range of themes and subjects, including an illustrated life history.
Ohotaq had his first solo exhibition of prints and drawings in 2010, and in 2012 a number of his large scale drawings were exhibited in a highly acclaimed show alongside Venerable Canadian artist Jack Bush at the Justina M Barnicke Gallery at the University of Toronto.
(Information provided by Dorset Fine Arts.)
In the early years of his career Mikkigaq made use of bold colour in the creation of his small format prints. At this time, drawing was regarded as a preliminary step to the creation of prints, but would later become his preferred medium. Sharing a space with other artists in the Kinngait studio resulted in exposure to new techniques, materials, methods and ideas, which led Mikkigak to experimenting with large format pencil drawings. Embedded in the intricate layers of Mikkigak's landscape drawings are the stories and memories of the land captured through his colourful and gestural pencil strokes. His memories are mapped out using references to landmarks and sites of interest sometimes adopting the aerial view that is common among Inuit drawings and occasionally using syllabics to reveal his intimate knowledge of the land he depicts. Whether depicting birds, stones, fish or even houses, Mikkigaq captures the character of the nature of his surroundings.
In the past decade pencil drawing has gained recognition as a medium in the studio and is now being held in higher esteem as individual artworks. This shift in artistic focus towards a new medium allowed for more flexibility and expressionism in his work. Mikkigak had his work exhibited extensively during his life as well as posthumously across Canada and the United States. His pieces are part of the public collections of many notable institutions including the Art Gallery of Ontario, and the Winnipeg Art Gallery. He has appeared in multiple publications including numerous times in the Inuit Art Quarterly.
(Information provided by Inuit Art Foundation)