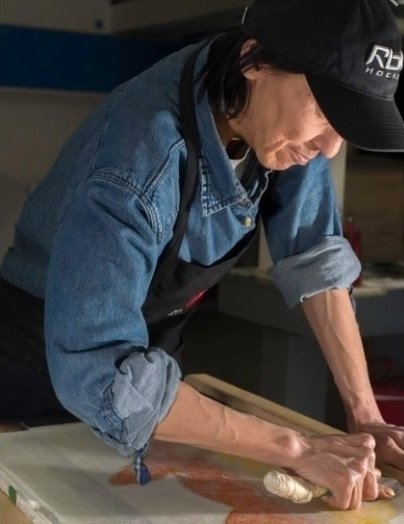 CEE POOTOOGOOK
(Born 1967)
Cee Pootoogook is the eldest son of the late Napachie Pootoogook and Eegyvadluk Pootoogook, and older brother to the well known Cape Dorset contemporary artist, Annie Pootoogook.
Cee was born on August 1, 1967. Around 1990, Cee began carving and he developed a solid reputation for his curious and well executed depictions of spirits and transformations.
In 2009 Cee gave up sculpture and began work as a stonecut printer. In a very short time Cee demonstrated an aptitude for the precise and methodical qualities required for the time consuming work of editioning prints. He has also been drawing for the past several years, depicting the day to day activities of community life as well as traditional subjects and wildlife.
(Information courtesy Cape Dorset Fine Arts)
Cee Pootoogook, a carver and printmaker from Kinngait (Cape Dorset), NU, was born into an artistic family including graphic artist Napachie Pootoogook and printmaker Eegyvudluk Pootoogook . He is also the brother of contemporary artist Annie Pootoogook.
Though beginning his artistic career as a carver, Pootoogook transitioned into printmaking in 2009. Pootoogook's prints utilize space and balance, while at the same time showcasing his skill as a printmaker in the varied detailed design of his work.  Pootoogook creates mesmerizing imagery and brings depth to his pieces often with complex figures in constant states of motion.
These elements are best found in his work School of Fish (2015), which shows the flurry of movement of a group of fish, their seemingly directionless swimming allowing them to occupy the entirety of the print.  The movement of the fish can be felt as Pootoogook creates a sense of controlled chaos, giving the animals a purpose to their motion throughout the action on the page.  This theme is explored in many of Pootoogook's prints with an energy created that seems to go beyond the border of the page.
Cee Pootoogook's prints have been featured in the Cape Dorset Annual Print Collection since 2012 and has exhibited his work across Canada, the United States, and Germany.
(Info taken from Inuit Art Foundation)