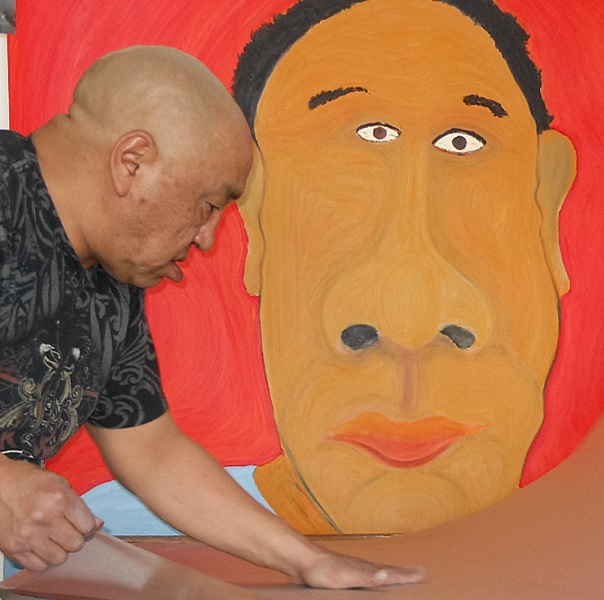 JUTAI TOONOO
1959-2015
Jutai was born in an igloo on a cold December morning in 1959 just outside Cape Dorset. He recalls the traditional way of life of his family and learned by watching his father go about the daily tasks that enable the family to survive. He and his sister, renowned sculptor, Oviloo Tunnillie, learned about stone carving by watching their father. Jutai did his first carvings when he was seven years old. By 1982, carving was his major source of income. One day he calculated his income and realized that he was making too little as a carver and decided to work in an office instead. Eventually he realized that sitting at a desk all day was not a life for him. In 1992 he resumed carving. In 1995 he also took his first jewellery and metalwork course and discovered a new artistic discipline (Information courtesy of Nunavut Arctic College and Dorset Fine Arts.)
Jutai is mostly known for his large scale expressionistic drawings, often with subversive and/or emotional subject matter regarding issues which affected him and his community.
Jutai Toonoo was an illustrator, printmaker, jeweller and sculptor based out of Kinngait (Cape Dorset), NU. Born in a camp near Kinngait Toonoo spent his childhood living on the land. Toonoo first began carving when he was seven years old after watching his father sculpt. Toonoo became known for an art style that was both subversive and representative of his emotional process and the social issues concerning him within his community.
Toonoo began his artistic career in the 1990s at first establishing himself as a sculptor and later becoming involved with the drawing and printmaking programs out of the Kinngait Studios. He later took jewellery courses at the Nunavut Arctic College using techniques he had learned in the program to improve his carving.
Toonoo utilized bold colours in his compositions that were evocative of his emotions at the time of composition from expressing anger to humorous sentiments. Toonoo's emotions are also translated into his landscapes, which regularly incorporate pulsing red and frigid blue tones. In his Cancer Cell Series Toonoo depicted human cellular landscapes in massive scale. Motivated by the experiences of friends and family suffering with cancer his series is simultaneously painfully scrutinizing and emotionally layered.
Religious and spiritual themes are also present in Toonoo's art, such as the commanding etching New Age Christ (2008) in which a maelstrom of clouded words spew from one character's mouth against a dark background. Toonoo often incorporated text into his work, sometimes recording his thoughts or things he said out loud verbatim while working on a particular piece.
Toonoo's work has been exhibited extensively in Canada and internationally, frequently appearing in solo exhibitions at Feheley Fine Arts, Toronto, ON. His work is held in collections at the Art Gallery of Ontario, Toronto, ON, the Winnipeg Art Gallery and the National Gallery of Canada, Ottawa, ON. Toonoo has also been featured in multiple publications including numerous times in the Inuit Art Quarterly.
(Information provided by Inuit Art Foundation)