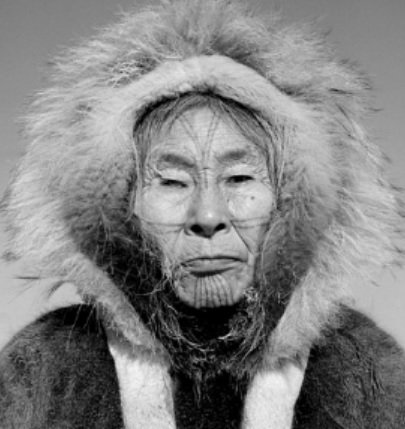 Helen Kalvak
(1901 – 1985)
Helen Kalvak was a founding member of the Holman Eskimo Co-op, and began her artistic career in 1965. One of her prints was selected to represent Inuit Artists work on a Canadian Postage Stamp in 1979. (Shown as the featured work of art for Helen on our home page.) She was also nationally honored with her induction into the Royal Canadian Academy of Arts in 1975 and her  appointment to the Order of Canada in 1978.
Kalvak was born at Tahiryuak Lake, on Victoria Island and raised in the Prince Albert Sound area. Her family also spent some time at Minto Inlet. She lived a traditional Inuit lifestyle for most of her life. Her mother was Enataomik. Her father Halukhit encouraged her spiritual gifts and taught her to be an angatkuq (spiritual healer). Although Kalvak later converted to Christianity, she continued to reflect her traditional spirituality in her artwork, along with the stories which she had learned as a child.
In 1960, Kalvak moved to Holman (present-day Ulukhaktok) after the sudden death of her husband, Edward Manayok. There in 1961 she helped a Roman Catholic priest, Rev. Henri Tardy, set up the Holman Eskimo Co-op. It was at this time that Kalvak began her artwork. In 1965, her artwork was turned into prints and sold throughout the world.
Ten years later, in recognition of her work, Kalvak was inducted into the Royal Canadian Academy of Arts. This was followed in 1978 by her appointment to the Order of Canada.
By 1978, Kalvak had produced an estimated 2,000 drawings. She was no longer able to use her hands due to Parkinson's disease. The following year, Canada Post used her work entitled The Dance for the 17¢ postage stamp. With 176 published prints, Kalvak is the Ulukhaktok artist with the largest body of published work.
At the time of her death in 1984, Kalvak was one of the few remaining Inuit women in Ulukhaktok decorated with traditional beautifying facial tattoos.
The school in Ulukhaktok is named after her.
(Information provided by Wikipedia.)