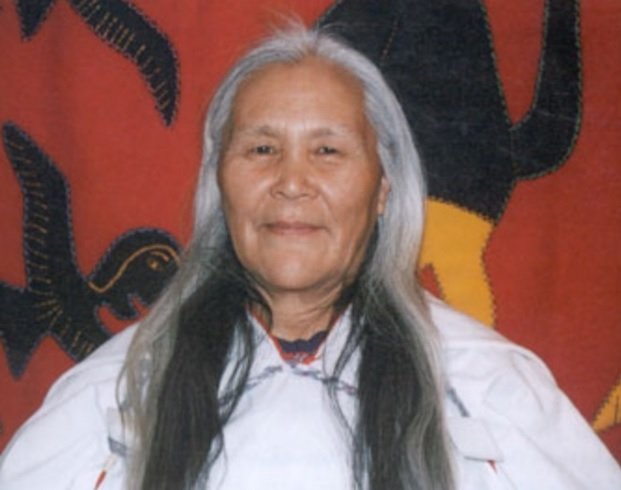 Irene Avaalaaqiaq
(Born 1941)
Irene Avaalaaqiaq is one of Canada's most renowned Inuit artists. Her work is rooted in her lived experience, often dealing with themes of being an orphan and Inuit stories her grandmother told her. Her works are included in such notable collections at the National Gallery of Canada, the Winnipeg Art Gallery, and the Baltimore Museum of Art.
Avaalaaqiaq Tiktaalaaq was born on the north shore of Tebesjuak Lake near Baker Lake, Nunavut, Canada. Her mother, Gualittuaq, died shortly after Avaalaaqiaq was born, and her father, Itiplui, was unable to care for her, so her grandparents raised her on the land in the customary Inuit style. Speaking of her childhood, Avaalaaqiaq Tiktaalaaq said:
"Whenever I see my wall hangings they remind me of my life. Also I always remember my grandmother and the stories and legends she told me. When I grew up there were no other people except my grandparents. I had never seen white people. When I do sewing and make a wall hanging I do what I remember. I can see it clear as a picture. When I am looking at it, it looks like it is actually happening in those days, as it was in my life."
She married David Tiktaalaaq in 1956 and they moved to Baker Lake in 1958, where Avaalaaqiaq Tiktaalaaq gave birth to one of their children.
Avaalaaqiaq began her art career between 1969 and 1970 with small soapstone carvings, often of animals with human heads.
Avaalaaqiaq is noted for her drawings, prints, and wall hangings. Her works are part of the collections at the National Gallery of Canada, the Winnipeg Art Gallery, the Baltimore Museum of Art, among others.
In 1999, the University of Guelph awarded Avaalaaqiaq Tiktaalaaq an honorary doctorate of laws in recognition of her contribution to the development of Inuit art and her leadership role in the Nunavut community of Baker Lake.
(Information provided by Wikipedia.)