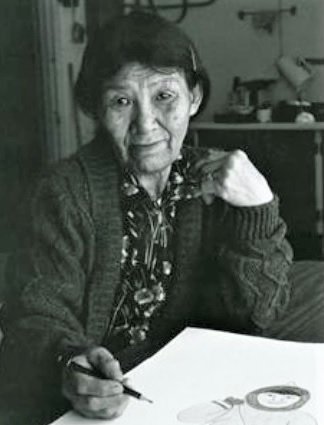 Mary Pudlat
(1923 – 2000)
Mary Pudlat was a talented artist and storyteller. She worked on two publications of children's literature: the book Inuit Spring Time (1966), which she wrote and illustrated, and Lumaajuuq, which she illustrated for a daycare centre. Pudlat's artwork was first exhibited shortly after she appeared in the Cape Dorset Annual Print Collection, which she would be included in numerous times throughout her career, and her work continues to be exhibited posthumously. Her work can be found in several major artistic institutions, including the Metropolitan Museum of Modern Art in New York City, NY and the National Gallery of Canada in Ottawa, ON.
Mary Pudlat was a printmaker and graphic artist born near Puvirnituq (Povungnituk), Quebec, who made Kinngait (Cape Dorset), NU her artistic community. Pudlat moved from Nunavik to Qikiqtaaluk (Baffin Island) in her early twenties where she met her husband who would later take a job at the West Baffin Co-Operative in 1960. Pudlat would soon become involved with the Kinngait graphics movement and was published in the Cape Dorset Annual Print Collection of 1966.  Pudlat experimented with a wide range of media and techniques such as etching, printmaking, lithography and stone cutting.
Pudlat's compositions are balanced within the centre of the page and maintain a degree of symmetry. Her subject matter is often whimsical. She depicts domestic scenes of camp life, such as the contented picture A Family Sleep (1984), stories from the community's history as in the 1986 stone cut stencil Hunters Pursue Drifting Boat where figures paddling astride avataq follow a European ship and imaginative images like the print Riding on a Bird (1980) which shows a mother and child so small they are able to travel on the back of a ptarmigan. Pudlat's line work is detailed and intricate, accentuated by thicker lines and areas of darker colour. Texture and realism is given to her works by gradients in the colour of the ink.
Pudlat was also known for her skills as a seamstress. Her depictions of clothing were highly detailed, incorporating different patterns, colours and stitches. In her print Throat Singers (1987) Pudlat depicts two women dressed in amauti throat singing. One woman is wearing a parka dyed with red accents and decorated with embroidery, a fringe and tassels. The other woman is wearing a parka that appears to be made out of sealskin, as it matches the dark pattern of their boots. The facial features of the two women are also unique, possibly indicating a difference in age. The women juxtapose one another by the red and blue colours of their dresses, inverted patterns of their boots and placement of their feet.
Pudlat was a talented printmaker and illustrator whose work was included numerous times in the Cape Dorset Annual Print Collection throughout her career from the 60's through to the last years of her life. Pudlat depicted whimsical scenes of camp life, community history and imaginative stories. Her work can be found in private collections around the world and in the collections of prestigious major artistic institutions including the Metropolitan Museum of Modern Art and the National Gallery of Canada.
(Information provided by Inuit Art Foundation)