Inuit Artists – Printmaking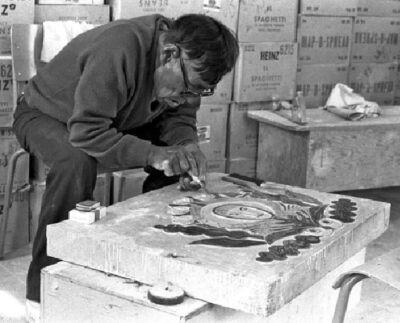 Inuit Artists create some of the most uniquely beautiful and intriguing works of art in the world, which are prized by collectors around the globe. Original works of Inuit Art come in a variety of forms, from original drawings and paintings on paper, to hand created original prints, as well as carvings in stone and bone. Inuit Artists focus is on graphic works, which include original handmade prints and drawings on paper.
Inuit prints are original works of art and are not reproductions. A stone lithograph and an offset lithograph are two completely different things. An offset lithograph is a machine made and printed reproduction of an original, usually mass produced in hundreds or thousands of copies. Most posters and prints are mass produced copies of the original work. Sometimes they are made in limited editions, but they are never considered 'original' prints, even if they are reproduced from an original work of art. However, handmade stone lithographs, stonecuts, etchings, aquatints, screen prints, and stencil prints, which are created by Inuit Artists, are each considered an original work of art, because each print is painstakingly created by hand, one print at a time, and each is therefore unique in itself.
The process of making an original print is very time consuming and requires a great deal of skill and knowledge to complete successfully. This is why artists often work directly with skilled printmakers who help them bring their images into fully realized original works of art on paper. This is also why most original prints are created in very limited editions. Since each print must be created individually, and each takes such meticulous preparation, care, skill, and time to create, it is rare for an original print to be made in an edition of more than fifty. And since each print is made individually by hand, each one will have it's own unique properties and variations and will be slightly different from the others. This is why every handmade print is considered an original one-of-a-kind work of art, even though the same image is recreated multiple times for an edition. This is also why Original Inuit Prints are so highly prized and collected by art lovers around the world.
For more information on the printmaking process, please visit the Dorset Fine Arts website where they have several informative articles about the process of making Inuit Artists original prints: